Marco Bolfelli Trio feat. Klaus Gesing – Streamflow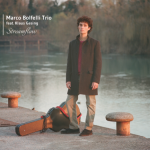 ℗ 2014 Birdland Sounds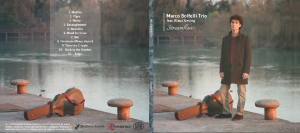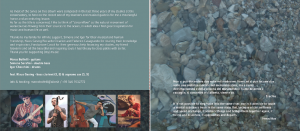 (eng)
"Streamflow" is the first release of young guitarist Marco Bolfelli and it was published in
December 2014 by Birdland Sounds label.
The album is made up of eleven original compositions recorded with Simone Serafini on double
bass and Igor Checchini on drums; it also features ECM recording artist Klaus Gesing as a special
guest on few tracks, playing bass clarinet and soprano sax.
Different and sometimes contrasting moods characterize the tunes, ranging between acoustic and
electric sounds; few electronic elements are present too.
However, the best description of the music of this project or, at least, of his aspirations, is
represented by the old adage by Heraclitus: "because of the swiftness and speed of change, (the
river) scatters things and brings them together again, it forms and dissolves, it approaches and
departs".
(ita)
"Streamflow" è il primo lavoro discografico del giovane chitarrista Marco Bolfelli, pubblicato nel
dicembre 2014 per l'etichetta Birdland Sounds.
Il disco raccoglie undici composizioni originali eseguite in trio con Simone Serafini al contrabbasso
e Igor Checchini alla batteria, con la presenza in alcune tracce dell'ospite Klaus Gesing (ECM
recording artist) al clarinetto basso e sassofono soprano.
I brani presentano climi e sfumature diverse e talvolta contrastanti che oscillano tra sonorità
acustiche ed elettriche, con l'occasionale inserimento di elementi elettronici.
Tuttavia la migliore descrizione della musica di questo progetto, o perlomeno delle sue aspirazioni,
è rappresentata dall'antica massima di Eraclito, secondo il quale "a causa dell'impetuosità e della
velocità del mutamento, il fiume disperde e raccoglie, si concentra e si allenta, viene e va".
Musicians:
Marco Bolfelli – guitar
Simone Serafini – double bass
Igor Checchini – drums
feat. Klaus Gesing – bass clarinet & soprano sax
Album tracklist:
1. Madiba
2. 70pic
3. Nekar
4. Entanglement
5. Atlantica
6. Mood for Crow
7. Niù
8. Finisterre (Klaus impro)
9. Take the C- train
10. Back to the Garden
11. Taiga
Credits:
Recorded, mixed and mastered by Francesco Marzona @ www.birdlandstudio.it.
All compositions by Marco Bolfelli except Finisterre by Klaus Gesing.
Available on iTunes at https://itunes.apple.com/it/album/streamflow/id949927900
CD copies available at birdlandsounds@gmail.com
Info & booking: +39 346 3512772 / marcobolfelli@alice.it