Browsing articles in "Jazz Etno Acoustic"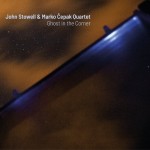 ℗ 2019 Birdland Sounds
John Stowell & Marko Čepak quartet – Ghost In The Corner
John Stowell – guitar
Marko Čepak – guitar
Simone Serafini – bass
Aljosa Jeric – drums
Nell'ultimi 7 anni John Stowell ha regolarmente collaborato con il chitarrista jazz sloveno Marko Čepak – Maki.
Durante questa collaborazione la musica si è sviluppata in sintonia, con un suono e uno stile molto originale ; da qui nasce l'idea di registrare l'album "Ghost In The Corner", 11 pezzi originali di John, Maki e Aljosa.
Recorded at Birdland Studio by Francesco Marzona
Album design by Jernej Humar & Nika Zuljan
Marko Čepak Maki
+386 40 617 870 | makisono@gmail.com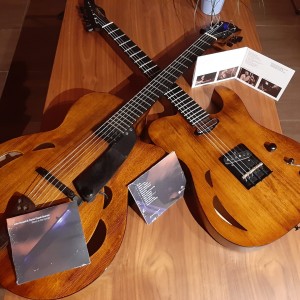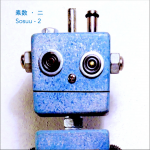 ℗ 2018 Birdland Sounds

Camilla Collet – Drums
Pietro Spanghero – Doublebass, Electric Bass
Giulio Scaramella – Piano, Keyboards
Giorgio Giacobbi – Soprano Saxophone
All songs written by Pietro Spanghero
Recorded Mixed and Mastered By Francesco Marzona www.birdlandstudio.it
Assistant Audio Engineer : Luigi Del Missier
The Robot on the cover is a creation of Alessandro Biasotto
Robot Recycled Solutions- FB: ARS Alessandro Biasotto, alessandro.biasotto@libero.it
Inside cover photos by Christian Faggionato (chrisfaggionato.com)
www.sosuujazz.com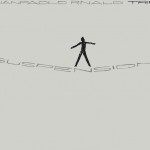 ℗ 2018 Birdland Sounds

Gianpaolo Rinaldi Trio
Gianpaolo Rinaldi è un pianista, hammondista e compositore friulano attivo sulla scena jazzistica del nord est Italiano, grazie ad un percorso professionale che lo vede presente come side man al fianco di un gran numero di musicisti tra i più significativi del territorio locale e forte di importanti collaborazioni con artisti di caratura nazionale ed internazionale.
L'incontro con il contrabbassista Mattia Magattelli ed il batterista Marco D'orlando, musicisti assai richiesti e altrettanto ricchi di esperienze sia come side man che in veste di leader, è cruciale per l'inizio di un trio a conduzione del pianista friulano che scrive la gran parte della musica inedita proposta, affiancata alle composizioni di Magatelli e D'orlando, che donano varietà al combo grazie a caratteristiche compositive molto diverse tra loro.
I tre registrano insieme il primo album "Suspension", lavoro che si concentra sul rapporto tra la figura del funambolo (con particolare riferimento alla figura di Philippe Petit) e quella del musicista improvvisatore, umanità alla costante ricerca di delicati equilibri con la natura, con il momento e con sé stessi.
8 sono i brani presenti in questo lavoro, la maggior parte dei quali suonati in piano trio, pur nell'esplorazione di sonorità e caratteristiche compositive molto diverse tra loro. Ci sono poi un brano in piano solo ed uno in trio suonato però con il Rhodes (in sostituzione del pianoforte) ad aprire ulteriori finestre sonore che donano varietà e ricerca all'incisione.
Line up:
Gianpaolo Rinaldi: pianoforte, rhodes;
Mattia Magatelli: contrabbasso;
Marco D'Orlando: batteria
Registrato, mixato e masterizzato da Francesco Marzona
Per informazioni/acquisto del disco : www.gianpaolorinaldi.it
Bandcamp : https://gianpaolorinaldi.bandcamp.com/releases
iTunes : https://itunes.apple.com/it/album/suspension/1448884673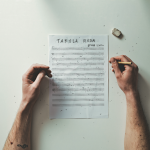 ℗ 2017 Birdland Sounds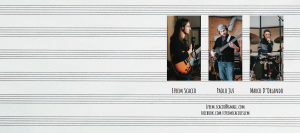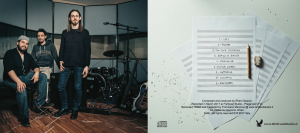 -———-— [ITA] ———-———-
Il Trio Eslem nasce nell'estate del 2016 dal bisogno del chitarrista Efrem Scacco di dare vita a un progetto nel quale non ci fossero paletti per quanto riguarda i generi musicali, per avere una totale libertà espressiva nella composizione e nell'interpretazione.
Trova in Paolo Jus (basso elettrico) e Marco D'Orlando (batteria) i musicisti adatti per concretizzare le proprie idee, dotati di un linguaggio musicale complesso, raffinato e molto versatile. Il repertorio infatti è formato da brani originali (di tutti i membri) e riarrangiamenti influenzati dal progressive, jazz, blues, fusion e metal.
A marzo 2017 registrano nei Fishbowl Studio e nei Birdland Studio il primo disco, "TABULA RASA", contenente nove tracce molto eterogenee, le quali hanno l'intento di rappresentare, tramite l'uso di stili diversi, pensieri, immagini e sensazioni.
——-——- [ENG] ———-——–
Trio Eslem was born during the summer of 2016 from the need of the guitar player Efrem Scacco to give birth to a project whithout any kind of musical limitation, in order to have total expressive freedom regarding the composition and interpretation of the pieces.
He finds in Paolo Jus (bass) and Marco D'Orlando (drums) the perfect musicians to realize his own ideas, having a complex, tasteful and versatile musical language. In fact, the repertoire is composed by original pieces (by all of the members) and rearrangements influenced by progressive, jazz, blues, fusion and metal.
In march 2017 they record in Fishbowl Studio and Birdland Studio the first album, "TABULA RASA", containing nine heterogeneous tracks, which has the intent to represent, through use of different styles, thoughts, images and sensations.
E-MAIL : efrem.scacco@gmail.com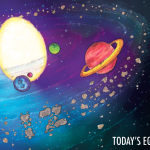 ℗ 2016 Birdland Sounds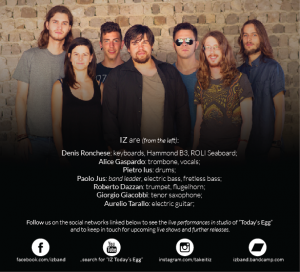 Fusion / Jazz / Progressive
Paolo Jus (bs) Denis Ronchese (kbd) Pietro Jus (dr) Aurelio Tarallo (gtr) Roberto Dazzan (tpt) Alice Gaspardo (tbn) Giorgio Giacobbi (sax)
——— [ITA] ———-———-
IZ nasce nel dicembre del 2012 a Zoppola come trio acustico basso-batteria-tastiera.
Nella primavera 2014 la line up subisce un'evoluzione con l'inserimento della chitarra elettrica di Aurelio Tarallo, che va ad aggiungersi ai fondatori e fratelli Ius, Pietro e Paolo, alla sezione ritmica (batteria e basso rispettivamente) e a Denis Ronchese alle tastiere.
Il quartetto ha pubblicato il primo lavoro autoprodotto "Lebannen" nell'aprile del 2015.
Dal 2016 si viene a delineare il progetto modulare IZ, che affianca ai fondatori una sezione fiati, formata da Alice Gaspardo (trombone), Roberto Dazzan (tromba) e Giorgio Giacobbi (sassofono).
In maggio dello stesso anno, i nuovi IZ sono entrati in studio (Birdland Studio di Francesco Marzona) per registrare il secondo album, in uscita alla fine dell'estate.
La band coniuga il groove e l'improvvisazione della fusion/jazz, con le sonorità e i tempi del progressive: uno stile spiccatamente originale, espresso al meglio soprattutto nei brani inediti (scritti da Paolo), ma che traspare anche dalle cover, spesso soggette a riarrangiamenti stilistici e strutturali.
———-——- [ENG] ———-——–
IZ was born in december 2012 in Zoppola (Pordenone, Italy), as an acoustic bass-drums-keys trio.
During spring of 2014 the line up was modified with the addition of the Aurelio Tarallo's electric guitar, who flanks the founders and brothers Ius, Pietro and Paolo (drums and bass respectively), and Denis Ronchese on keyboards.
IZ Quartet has published their first, self-managed, work "Lebannen" in April 2015.
From 2016 on, the IZ project became modular, with a wind-instruments section, formed by Alice Gaspardo (trombone), Roberto Dazzan (trumpet) and Giorgio Giacobbi (saxophone).
In may of the same year, these new IZ went in studio for a recording session (Birdland Studio by Francesco Marzona) in order to make the second album, release scheduled for the end of the 2016 summer.
The band combines the groove and the improvisation of the fusion/jazz, with the sound and the odd time signatures typical of the prog: the result is an original style, best expressed in the own songs (written by Paolo), but that emerges from the covers too, always rearranged both stylistically and structurally.
Here are the links:
SPOTIFY -> https://play.spotify.com/album/2UZTHtuA1aGGSYY2Nj8N5e
ITUNES -> http://apple.co/2farlPA
GOOGLE PLAY -> http://bit.ly/2f0gaGq
AMAZON MUSIC -> http://amzn.to/2eTVfas
BANDCAMP -> https://izband.bandcamp.com/album/todays-egg
E-MAIL   i.zorfena@gmail.com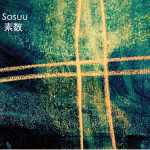 ℗ 2016 Birdland Sounds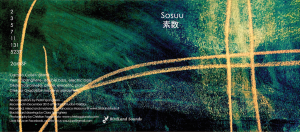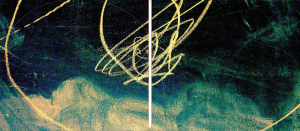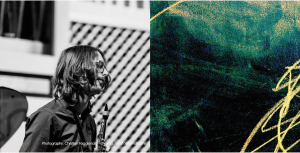 Sosuu is a quartet featuring
Giorgio Giacobbi on soprano saxophone,
Giulio Scaramella on piano and keyboards,
Pietro Spanghero on double bass and electric bass,
Camilla Collet on drums.
We agree with Mark Mull that "Writing about music is like dancing about architecture", so we'll keep words to a minimum, simply copying the liner notes found in the CD.
"These pieces are connected by prime numbers.
Prime numbers can be found in the melodies: for example in 2 each section is made of small two-note fragments, the same applies to 3, and something similar happens in all the other tunes. Prime numbers constitute also the rhythmic framework of this album.
And sure, by analyzing a little further, one could find more connections with prime numbers hidden here and there.
But we suggest you don't analyze at all, and just enjoy listening to the music, as we enjoyed playing it".
All compositions by Pietro Spanghero
Recorded in December 2015 at Birdland Studios -Gorizia-
Recording, mixing and mastering by Francesco Marzona
Blackboard drawings by Clara Spanghero
Photography by Christian Faggionato –www.chrisfaggionato.com – chrisfaggionato@gmail.com
I Sosuu sono un quartetto con
Giorgio Giacobbi al sax soprano,
Giulio Scaramella al piano e tastiere,
Pietro Spanghero al contrabbasso e basso elettrico,
Camilla Collet alla batteria.
Trovandoci d'accordo con Mark Mull quando scrisse che "scrivere di musica è come danzare d'architettura", terremo le parole al minimo, copiando semplicemente le note di copertina del CD.
"Questi brani sono accomunati dai numeri primi.
I numeri primi sono presenti nelle melodie: per esempio le diverse sezioni di "2" sono formate da piccole cellule di due note ciascuna; lo stesso vale per "3" e succede qualcosa di simile in tutti gli altri pezzi.
I numeri primi costituiscono inoltre l'armatura ritmica di questo album.
E di sicuro, analizzando più in profondità, si potranno trovare altre connessioni con i
numeri primi nascoste qua e là.
Ma vi suggeriamo di non analizzare affatto e piuttosto di godere della musica, come ne abbiamo goduto noi suonandola".
Tutti i brani sono stati scritti da Pietro Spanghero
Registrato in dicembre 2015 presso Birdland Studios -Gorizia-
Recording, mixing and mastering di Francesco Marzona
Disegni sulla lavagna: Clara Spanghero
Fotografie di Christian Faggionato –www.chrisfaggionato.com – chrisfaggionato@gmail.com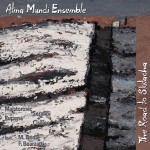 ℗ 2016 Birdland Sounds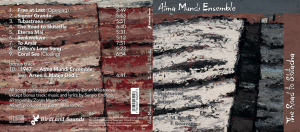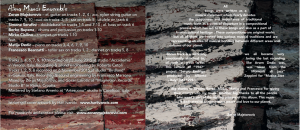 Tracks 3, 4, 6, 7, 9, 10 recorded on 22 June 2015 at studio "Accademia" in Verona, Italy. Recording & sound engineering by Roberto Cetoli
Tracks 1, 2, 5, 8 recorded on 06 November 2015 at studio "Birdland" in Gorizia, Italy. Recording & sound engineering by Francesco Marzona
Mixed by Zoran Majstorovic and Goran Lakotic at "Magnetron Records Studio B" in Rijeka, Croatia
Mastered by Stefano Amerio at "Artesuono" studio in Cavalicco, Italy
1.Free at last (opening) 2:49
2.Signor Grando 5:53
3.Tubastraea 5:51
4.The road to Skitacha 6:40
5.Eterna mai 5:31
6.Senkwekwe 5:12
7.To Amar 7:51
8.Gebra's love song 5:23
9.Coral sea (closing) 6:54
bonus track:
10."1947" – Atma Mundi Ensemble feat. Arsen & Matija Dedic 4:41
All songs composed and arranged by Zoran Majstorovic except bonus track: music and lyrics by Sergio Endrigo, arranged by Zoran Majstorovic.
Album produced by Zoran Majstorovic.
ATMA MUNDI ENSEMBLE
Zoran Majstorovic – el. guitar on tracks 1, 2, 4 ; acc. nylon string guitar on tracks 7, 9, 10 ; oud on tracks  3, 8 ; saz on track 5 ; ukulele on track 6
Simone Serafini – doublebass on tracks 1-5 and 7-10 ; el. bass on track 6
Borko Rupena – drums and percussion on tracks 1-10
Mirko Cisilino – trumpet on tracks 1-10
FEAT.
Matija Dedic – piano on tracks 3, 4, 6, 7, 9, 10
Francesco Bearzatti – tenor sax on tracks 1, 2 ; clarinet on tracks 5, 8
Istrian soil cover artwork by Hari Ivancic  www.hariivancic.com
For more info and contact please visit: www.zoranmajstorovic.com
All songs were written as a musical statement which clearly denotes the uniqueness and importance of traditional music, both as a point of departure in a compositional process which has led to these songs and also as a part of  human cultural heritage . These compositions are original works but all of them are rooted into various musical traditions and are representing an idea of musical bonding between different areas and cultures of our planet.
Bonus track is a recording we all became very emotionally attached to, being the last recording of such a great artist like Arsen Dedic was. This version of  "1947" was taken from the project "Sergio Endrigo – Momenti di jazz" produced by Alberto Zeppieri for "Musica Jazz – Italy" (MJ 1298).
Big thanks to Simone,Borko, Mirko, Matija and Francesco for giving their energy into my music.Another big thanks to all the people who were a part of the making process of this album.This music is dedicated to bringing more peace and love to our planet, Earth.
Zoran Majstorovic
Fade Ou3 – Out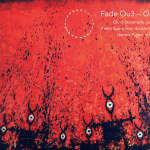 ℗ 2016 Birdland Sounds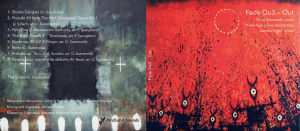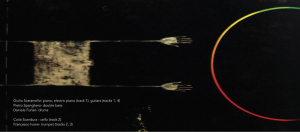 Fade Ou3 is a trio featuring Giulio Scaramella on piano and keyboards, Pietro Spanghero on double bass and Daniele Furlan on drums.
We focus on deconstructing, remodeling and rearranging classical music pieces for jazz trio.
A bit of history.
We are active as a trio since 2009, when we were asked to play a gig in a classical music festival.
Although we all have a classical background, we already played together in different ensembles where we did mainly jazz, funk or pop music, so we decided we should offer our take on some classical pieces we liked or happened to be listening to in those days.
A repertoire developed quickly, we played the gig and had so much fun we decided to go on with the project.
Soon we got more chances to play our arrangements of those classical tunes, or we simply managed to sneak some of them into concerts we were playing with other bands.
The audiences liked them, we liked them, so we decided to record an EP: it was the "Ear" EP, skillfully recorded at home by Daniele Furlan (who, for the occasion, played drums and did a great job as a recording engineer).
More ideas for new arrangements came up and we tried to play them live every chance we got.
People liked our tunes, dug the Ear EP, and encouraged us to record a proper album, which we did in late 2014.
After taking care of overdubs, mixing, mastering, graphics and the like, all of which while working day jobs and playing in different bands, we finally had the physical copies of the CD ready in late 2015, and are now able to officially present it to the public.
Enjoy!
Link : Fade Out3
Credits:
Recorded : Stefano Amerio – Mixed: Daniele Furlan – Mastered : Francesco Marzona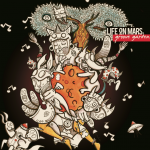 ℗ 2015 Birdland Sounds
Chi siamo? Da dove veniamo? Dove andiamo? Sono queste le domande più frequenti che, fuori da ogni intenzione filosofico-esistenzialista, ci si pone quando si fanno i conti con l'inaggirabile ed impagabile esigenza di ricerca propria dell'ambito musicale. L'altrettanto ineliminabile – talvolta ossessiva – volontà di emergere, primeggiare e distinguersi all'interno del pianeta Jazz, spesso conduce la ricerca attraverso la rottura, la decostruzione, l'opposizione, verso il miraggio di un sempre nuovo ed inaudito inizio. Ma è possibile un'altra strada di ricerca?
Da questi interrogativi nasce l'idea del progetto "Life on Mars", metafora di una ricerca verso un novum che sia però al tempo stesso prosecuzione e continuità: riuscire ad unire, senza stravolgere, elementi eterogenei, tracciando un solco "familiare" in un terreno per così dire "alieno".
Fuor di metafora: "Life on Mars" vuole proporsi come elaborazione pratica di un groove-jazz in grado di veicolare ogni solismo in un avvolgente e coinvolgente propulsione ritmico-melodica, mescolando in modo talvolta non convenzionale elementi del funk, del latin-jazz e del jazz-rock, cercando terreni nuovi che suonino però come già familiari.
"Life on Mars" nasce all'inizio del 2014 ad Amsterdam, in seno al CvA, dove si incontrano quattro musicisti appartenenti ad aree geografiche ed influenze musicali diverse: Bruno Calvo Anillo (tromba), Xavi Torres Vicente (piano), Giuseppe Vitale (basso elettrico), Joan Terol Amigó (batteria).
La ricerca di sonorità più elettriche spinge i musicisti verso l'Italia, che ampliano l'organico di Life on Mars con il chitarrista e compositore trevigiano Attilio Pisarri, cui vengono affidate la composizione e l'arrangiamento dei brani, il cui obiettivo è offrire e mantenere quella spontaneità e freschezza normalmente caratteristiche solo di un primo, iniziale incontro; a completare la formazione, come ospite, la partecipazione energica e visionaria del sax alto di Mattia Dalla Pozza.
Il lavoro si concretizza così nella espressione in un fresh-sound dal taglio manifestatamente easy-listening, proponibile ad un pubblico assai ampio, proveniente anche da ambiti extra-jazzistici ma pur con esso confinanti.
L'immediata efficacia del progetto trova naturale prosecuzione in una tournée italiana e nella registrazione del primo disco, "Groove Garden", una sorta di concept album che immagina molti modi in cui "solcare" il nuovo terreno: il camminare insieme stabile ed instabile di Groove Garden e Certe volte; il muoversi leggero ed evocativo di A piedi nudi; il giocare – Electric Dog; l'esplorazione – di quell'ignoto che a prima vista appare come illogico, incoerente ed inspiegabile – Schyzophunk; il danzare – Dancin' on the Sofa; la corsa – Grooveology; il viaggio – Sleepin' Seat.Contact: lifeonmarsjazz@gmail.com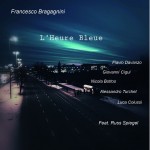 ℗ 2015 Birdland Sounds
L'Heure Bleue" è un disco che comprende composizioni originali scritte dal chitarrista Francesco Bragagnini per questo suo primo lavoro per l'etichetta Birdland Sounds. I brani, di varia natura ed atmosfere cangianti, sembrano tuttavia essere collegati da un filo conduttore che ben descrive l'immaginario emozionale dell'autore. Compongono il gruppo – nato nel 2011 come quartetto – Nicola Bottos al piano, Alessandro Turchet al contrabbasso e Luca Colussi alla batteria, figurano anche Flavio Davanzo alla tromba, Giovanni Cigui ai sax e quale ospite, il chitarrista americano Russ Spiegel.