Fade Ou3 – Out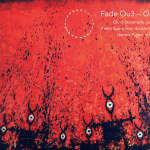 ℗ 2016 Birdland Sounds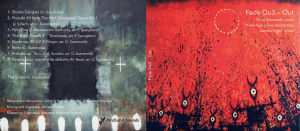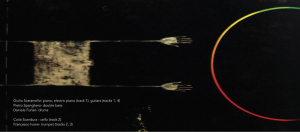 Fade Ou3 is a trio featuring Giulio Scaramella on piano and keyboards, Pietro Spanghero on double bass and Daniele Furlan on drums.
We focus on deconstructing, remodeling and rearranging classical music pieces for jazz trio.
A bit of history.
We are active as a trio since 2009, when we were asked to play a gig in a classical music festival.
Although we all have a classical background, we already played together in different ensembles where we did mainly jazz, funk or pop music, so we decided we should offer our take on some classical pieces we liked or happened to be listening to in those days.
A repertoire developed quickly, we played the gig and had so much fun we decided to go on with the project.
Soon we got more chances to play our arrangements of those classical tunes, or we simply managed to sneak some of them into concerts we were playing with other bands.
The audiences liked them, we liked them, so we decided to record an EP: it was the "Ear" EP, skillfully recorded at home by Daniele Furlan (who, for the occasion, played drums and did a great job as a recording engineer).
More ideas for new arrangements came up and we tried to play them live every chance we got.
People liked our tunes, dug the Ear EP, and encouraged us to record a proper album, which we did in late 2014.
After taking care of overdubs, mixing, mastering, graphics and the like, all of which while working day jobs and playing in different bands, we finally had the physical copies of the CD ready in late 2015, and are now able to officially present it to the public.
Enjoy!
Link : Fade Out3
Credits:
Recorded : Stefano Amerio – Mixed: Daniele Furlan – Mastered : Francesco Marzona